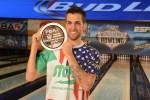 Anthony Pepe of Elmhurst, New York, in his national television debut, won the PBA Cheetah Championship presented by PBA Challenge Mobile Game at the new South Point Bowling Plaza with an emotional 224-206 come-from-behind victory over top qualifier Dick Allen of Columbia, South Carolina.
The Cheetah finals, the first of five GEICO PBA World Series of Bowling VI title events, aired Sunday on ESPN. It also was the first national telecast originating from the new state-of-the-art 60-lane bowling facility at the South Point Casino, Hotel and Spa complex on Las Vegas' south side.
Pepe refused to give in to Allen in the title match, despite missing a 7 pin in the sixth frame which put him in a 29-pin hole with four frames to go. After leaving back-to-back 6 pins in the eighth and ninth frames, Pepe threw three strikes in the 10th frame to clinch the title.
Pepe came within one shot of matching a feat performed only one other time in PBA history: a 300 game in a player's first-ever game on national television. Bob Benoit of Topeka, Kansas, is the only player to do that, winning the 1988 Quaker State Open in Fort Worth, Texas, with a 300-255 victory over PBA legend Mark Roth.
"I just told myself to make better shots," he said. "It was unfortunate what happened to Dick, especially in the 10th frame – he threw that (7-10) shot really well – but I came up in the 10th and knew I only needed a mark a win. When all 10 pins fell down, I fell down, too.
Since its introduction in January 2013, the "Official Mobile Game of the PBA" has surpassed 8.3 million downloads on Android mobile devices, and has added almost 2 million downloads on iOS devices since its availability for Apple products in November of 2013. Those figures from Concrete Software, the creator of the PBA Bowling Challenge, translate into 4,700 downloads per day by Android users and 2,700 daily downloads by iOS users. Another 350,000 downloads have been recorded by Amazon and Barnes & Noble device users.
PBA Bowling Challenge is a mobile game that features actual tournaments, oil patterns, bowling balls and legendary PBA bowlers who are faithfully represented throughout the game's extensive career mode.
To download the PBA game in a version to fit your mobile device visit the PBA Bowling Challenge page