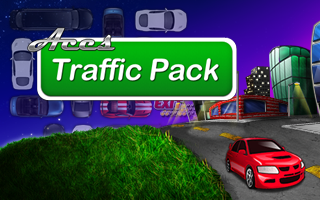 Aces® Traffic Pack is out now for Blackberry!
The game joins the award winning line of Aces games for BlackBerry smartphones, and supports all recent BlackBerry handhelds, including the new Storm 2. The preview version, shown at the RIM Developers Conference in November 2009, received rave reviews, and the release of the full version is expected to turn heads as it raises the bar for the comprehensive look and feel of applications on BlackBerry devices.
Aces Traffic Pack is a puzzle game with unique display graphics, menus, and features. To solve each puzzle the user must strategically maneuver cars horizontally or vertically around obstacles to free their car from a traffic jam or parking lot. The full version offers six puzzle packs of varying difficulty and 480 puzzles total. The game includes statistic tracking which counts your total number of moves and the time it takes to complete each puzzle. It also automatically records your lowest move count and best time, making it easy to compete against yourself or a friend.