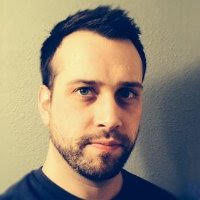 Concrete Software is happy to announce 8 year game veteran Ty Burks has joined Concrete Software in the role of Producer.
Before joining Concrete Software, Ty worked as a Game Artist and Gameplay Designer on several successful mobile games in the last few years, including the multi award-nominated Strata. Ty hopes to bring an innovative vision to Concrete's upcoming titles. The majority of his career has been spent developing games with the Unity engine, touching every aspect of development from UX design to particle-based special effects.
Ty founded Wallride Games last year in Minneapolis, Minnesota developing 2D multiplayer indie games for Steam and consoles. Former clients include Disney and Warner Bros. He has also collaborated with several indie game studios. Ty is an active member in the local IGDA and enjoys sharing projects and presenting his work to the local gaming community throughout the year. In his free time, Ty develops tabletop games for fun.