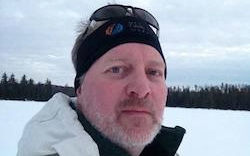 We are excited to announce the hiring of our new Studio Director, Chip Pedersen! He will play an integral role in our future plans to grow as a company, as we continue to create awesome mobile games.
Chip is the founder of Golden Gear Consulting and FrostBit Studio located in the frozen tundra of Silicon Prairie also known as Minneapolis. A twenty-five year veteran of the Tech and Gaming industry, Chip has held senior positions at Microsoft Game Studios, Activision, Griffin International and Outdoor Partners Entertainment. His experience covers numerous platforms and genres and he has directly managed AAA development teams of 60+ professionals. Prior to joining the gaming industry, Chip honed his tech skills as a Research & Development Specialist at Apple Inc. in Cupertino, California.
Chip's team building philosophy centers around one key concept: the project always comes first.  Whether it's strapping on motion‐capture goalie equipment for NHL Rivals, spending three days in the desert learning to shoot for the game Soldier of Fortune: Payback, or heading to the Boundary Waters to research lures for Bass Pro Shops: The Strike, Chip is one of those rare developers who not only creates games, he lives them.