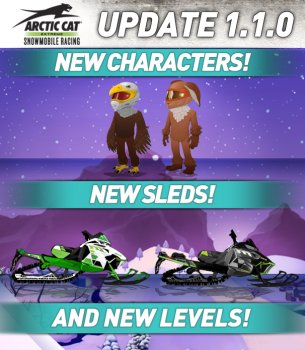 MINNEAPOLIS – May 5, 2016 – Concrete Software has updated Arctic Cat® Extreme Snowmobile Racing and added new levels,  sleds, characters, gondolas, rock avalanches, and new sled skins!
The incredible (and almost frightening) Scandinavian mountains around Troms and Oppland, Norway are captured in our latest levels. Plow through the snowiest of the snowdrifts with two new sleds, the M 6000 Sno Pro and the M 8000 Limited, specifically designed to handle the insane ascents and dangerous descents of the most incredible mountain runs. Still, beware of Troll Mountain!
We've also added a couple new and fun characters — Eagle, and Rabbit — which can be found in the Snowglobe! And also the Yeti is now a little easier to capture…
Go Team Arctic!